Profile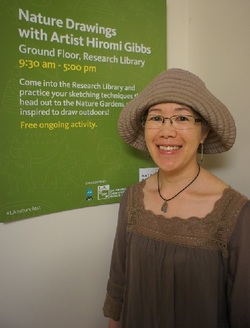 Hiromi was born and raised on the outskirts of Tokyo, Japan, where she developed her artistic interests. She studied art for four years, majoring in architectural design, and then spent seven years working for a commercial interior design company in Tokyo's fashionable Shibuya district.

After immigrating to California in 1992, Hiromi began to focus on wildlife and nature art, mainly through the mediums of watercolor painting and photography.

Hiromi finds inspiration as close as her patio, and as far afield as international trips to England or visits to family and friends in Japan. She is a member of a local watercolor workshop, and exhibits her work at numerous regional shows, including the Pasadena Museum of History's "Artistic Eden", "Living Wild" in San Dimas and the Morro Bay Winter Bird Festival..

Her award-winning work has appeared in Southwest Art and Western Art Collector magazines.

---
Past Shows & Events

2017
- Reflections of Nature 24: Fallbrook, California
- Morro Bay Winter Bird Festival 21, Morro Bay, California

2016
- Small Works Art Show & Sale: San Dimas, California
- 2016 Art Workshop Annual Exhibit, Los Angeles County Arboretum
- Morro Bay Winter Bird Festival 20, Morro Bay, California

2015
- Living Wild 19: San Dimas Wildlife Art Show
- 2015 Art Workshop Annual Exhibit, Los Angeles County Arboretum
- My Favorite Subject, Blinn House Gallery, Pasadena
- L.A.Urban Nature Fest: Natural History Museum of L.A.County
- Reflections of Nature 22: Fallbrook Art Center

2014
- Small Works Show, Saga Gallery, Monrovia
- Living Wild 18: San Dimas Wildlife Art Show
- 2014 Art Workshop Annual Exhibit, Los Angeles County Arboretum
- Contemporary Masters: Artistic Eden IV Show, Pasadena

2013
- Small Works Show, Segil Gallery, Monrovia
- Living Wild 17: San Dimas Wildlife Art Show
- 2013 Art Workshop Annual Exhibit, Los Angeles County Arboretum

2012
- Living Wild 16: San Dimas Wildlife Art Show
- Lineage Dance Company Gala Event
- 2012 Art Workshop Annual Exhibit, Los Angeles County Arboretum
- Art Matters Encore! Show, Huntington Library & Gardens, San Marino
- Grow! Garden Festival, Los Angeles County Arboretum
- Contemporary Masters: Artistic Eden III Show, Pasadena

2011
- Living Wild 15: San Dimas Wildlife Art Show
- Small Works Show, Segil Gallery, Monrovia
- 2011 Art Workshop Annual Exhibit, Los Angeles County Arboretum
- Beatrix Potter in the Garden, Los Angeles County Arboretum