News & Events


Birding Art - virtual gallery

This month, one of my painting became a front cover of Birding Art, a popular international website that exhibits a select group of bird artists from around the world. Please visit my gallery (and don't forget to browse the other artist galleries while you're there).
Hiromi Gibbs' Gallery @ Birding Art
or go to www.birdingart.com
---
May 6th & 7th, 2017 - Reflections of Nature, Fallbrook Art Center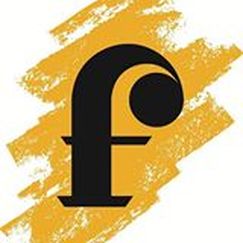 24th annual Reflections of Nature - Invitational national level show featuring paintings, sculptures, scratchboard, and more by 20 wildlife and landscape artists.
I will be back at Fallbrook Art Center for their spring Reflections of Nature Show & Sale. Hope to see you there!
Show Hours: Sat 10am - 6pm, Sun 11am - 4pm
Ticket price: $6
Free to FAI Members, Show Sponsors, Active Military & Under 18
For more info:
http://fallbrookartcenter.org
---
---
Morro Bay Winter Bird Festival 2017 Official T-shirt

It was a great honor to have one of my hummingbird paintings chosen as the official t-shirt design for the festival this year - especially since the keynote speeches were focused on hummingbirds.

Thanks to the festival committee for all your support and encouragement (and for wearing the t-shirts in such chilly weather)!

(Click the image to see a larger version.)

---
January 13 - 16, 2017 - Morro Bay Winter Bird Festival, Morro Bay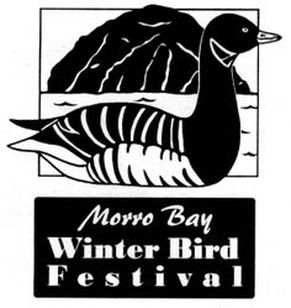 I'll be kicking off 2017 at the 21th Annual Morro Bay Winter Bird Festival, held on the central California coast from January 13th - 16th.
I'll be hosting a booth showcasing my paintings - including several new pieces - at the Vendor Bazaar. The bazaar is open to the public at the following times:
Friday 1/13 12pm - 4:30pm
Saturday 1/14 10am - 5pm
Sunday 1/15 10am - 4pm

For more info on the Festival and the Bazaar, click here.

For a map to the Morro Bay Community Center - the hub for festival activities - click here.
---
---
October 21st, 22nd & 23rd, 2016 - Small Works Art Show & Sale, San Dimas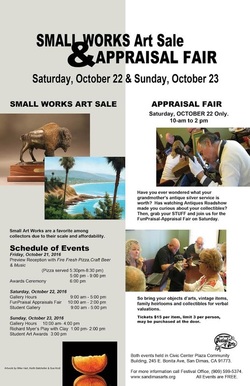 Friday 10/21 5pm-9pm Opening Night
Saturday 10/22 9am-5pm
Sunday 10/23 10am-4pm
Three of my paintings are on display to sale this weekend.
I will be at the show Friday Opening Night and Sunday afternoon.
There are also "Art & Antique" Appraisal Fair on Saturday, and "Play with Clay" workshop on Sunday.
Free admission and free parking.
For more info:


www.sandimasarts.org


---
---
October 8th & 9th 2016 - Art Exhibit, L.A. County Arboretum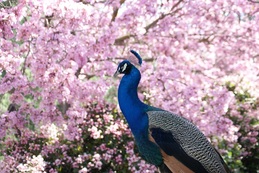 Along with other members of the Art Workshop of the Los Angeles County Arboretum, I will be exhibiting several paintings in this 2-day show. The show is open both Saturday & Sunday 9am-3:30pm at the Oak room.
Admission to the Arboretum, including the exhibit: Adults $9, seniors/students $6, children 5-12 $4, under 5 free.
More about Arboretum, click here.
---
---
New Note Card Sets in Etsy Store!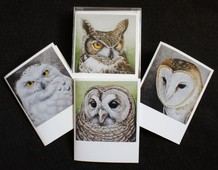 I have just added three new note card sets for sale at my Etsy store including this "Owl Series 3".
Click here
to visit my Etsy store!
---
---
Painting Featured in Western Art Collector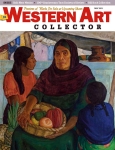 One of my recent paintings is featured in the May 2015 issue of Western Art Collector magazine, as part of a preview article for the upcoming "Reflections of Nature" art show in Fallbrook, CA. I will be exhibiting the original painting of a loggerhead shrike in my booth during the show.
To visit
the Western Art Collector magazine site,
click here
.
---
---
Painting Title Contest - Winner!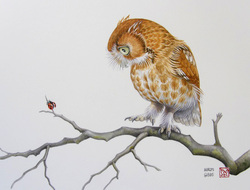 Congratulations to Nigel Treadgold, winner of my recent "Title the Painting" contest. It was a tough choice, since all the entries were great. However, the winning title is "Ladybird Surprise"!

---
---
Now on Birding Art

---
Mobile Website

I now have a mobile website! Just go to m.hiromigibbs.com on your mobile device.